Optimizing the space in your office will not only help you with day-to-day logistics, but it will mark the difference in the productivity of your employees, which translates into better service for your customers and greater profits for the company. At Wortmann Architects, we invite you to read these ideas that will help you optimize the spaces.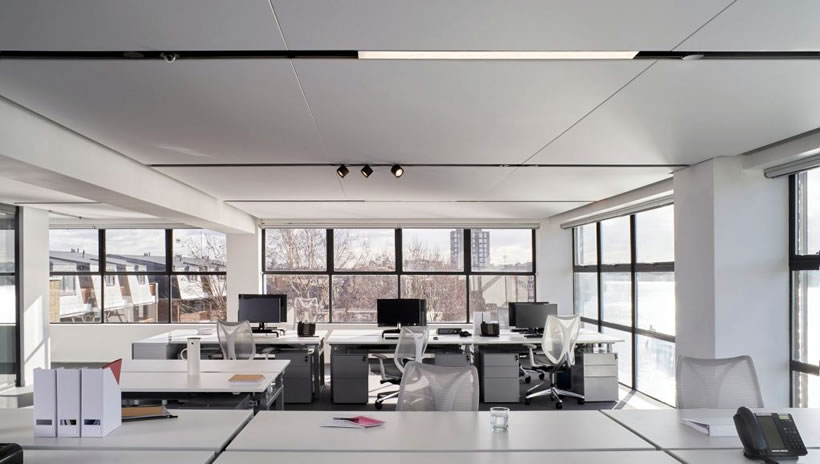 Bet on shared spaces.
The latest trends bet on the elimination of closed spaces. Every day we are further away from linking this type of space with the hierarchy of the company. The commitment to visual and personal contact, the promotion of meetings in almost any space and the search for the improvement of communication between people are priorities. For this purpose, we propose open and well-distributed spaces. The furniture will be your best ally. Say goodbye to the walls! Although not all … on occasion, for reasons of privacy, you will need at least one or two closed spaces, where you can have a meeting or make an important phone call.
Each space requires a certain light.
When lighting your office it is convenient to work with different light distributions, combining direct and indirect light according to the needs of the user, the type of work to be carried out and the distribution of the space. To optimize small spaces in your office, a simple, but a very effective idea that will give a sense of spaciousness is to let natural light take over the place. If you do not have access to it, you can always create a similar feeling using LED lamps and even more, the innovative luminaires of intensity and variable temperature throughout the day to adapt to the circadian cycle of people and improve productivity. In addition, we propose you to choose ceiling or desk lamps for not wasting space with floor lamps
Furniture.
Use airspace and vertical organization. The furniture you have must be solid to withstand the daily workload constant, versatile to be able to take on the changes that occur in the office, clean aesthetics to promote concentration and, of course, functional, to facilitate the development of tasks and order. If your workspace is limited, a good idea is that your furniture is taller than it is wide, so you can save space by organizing everything vertically.
Acknowledgement:
Michela Mezzavilla, architect and lighting designer. Founding partner of Remm.
michela@remm.es
David Regales, Manager in Unifurniture.
david@unifurniture.net