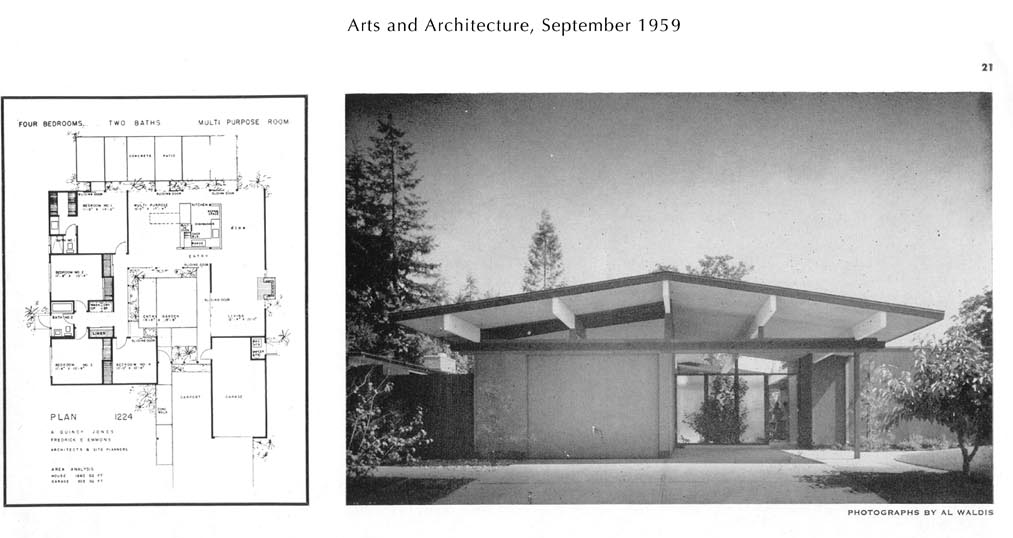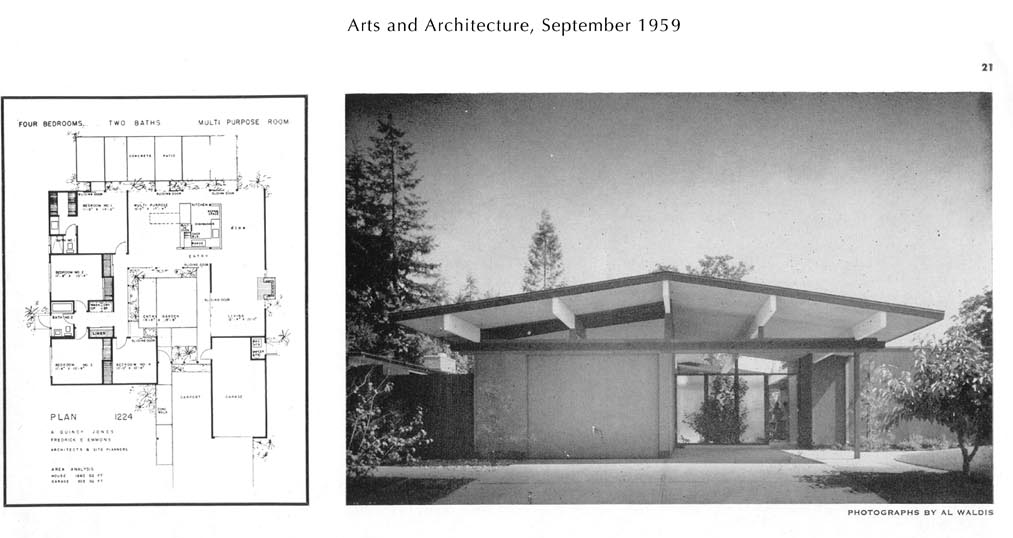 By the middle of last century, the American builder Joseph Eichler hired some of the most important American architects of the time to design a series of housing developments made to suit the middle class stratum budgets.
Between 1950 and 1974, Eichler built over 11,000 dwellings along the west coast of the United States, between San Francisco and Los Angeles and his homes became a reference, still in force, of an affordable high quality modern architecture.
Among the most notable projects there is Fairhaven neighborhood, from Anshen + Allen architects in Orange, California; the houses and apartments from Archibalt Quincy Jones, who worked on some projects teamed up with Frederick Emmons, at the request of Eichler himself; or the modular steel houses in Palo Alto by Raphael Soriano awarded with two recognitions from the American Institute of Architects, AIA.
Eichler's houses are constructed by using wood or steel structures whose beams are extended beyond the limits of the façade and its spaces prioritize the relation with the exterior through glazed openings, integrating open courtyards which organize the plan around them.
The composition of brightly colored ceramic surfaces, laminated wooden beams and concrete pavements with the Japanese tatami layout are minimalist and sensual all at once. Not surprisingly, Californian vegetation, Mediterranean-like, is just an excuse to open these habitable sculpture to the surrounding gardens filled with palm trees, supposedly scented on healthy air.
The current interest on these buildings lies in its reproducible nature, considering the present time, which breeds prefabricated dwelling units produced in factory and assembled in situ in just two weeks. Eichler, already in the 50's, had experimented with the assembly of modular homes industrially produced and assembled, intended for middle class families. But beyond the industrial aesthetics, Eichler homes display an immediate attraction, familiar and distant at the same time, as far away from the "high standing" dwellings which populate our coastline in a sort of a nauseating rudeness, as distant from singular containers made of semi-transparent surfaces, multicolored and polyhedrical spread around our cities, without ever taking roots. However, these houses impress by the freshness of their architectonical manufacture, the visual impact of their façade composition, the invigorating blend of their materials, always designed within a deep tectonic dimension, which is the very essence of architecture.
Unlike the "machines a habiter" from Le Corbusier and his co-religionists –not in vain, the architect used an image of an ocean liner to describe his avant-garde houses from the rationalist period- white containers that the German philosopher Ernst Bloch denounced for awaken a sense of imminent setting sails, so contrary to the intention of any architecture worthy of being called, that is, to create a shelter, a place for a man or Heimat. These houses seem to want to teach us a lesson, while representing a promise: that the passion and the will to achieve the excellence, combining business know-how with a hefty dose of visionary energy turned out to be profitable and at the same time capable to create real homes, which not only have endured over time, but which today have become high-value products in the residential market.
Eichler soon became one of the most important builders of the time and a strong defender of equal opportunities, promoting non-discrimination policies between races and religions which led him to confront the American Association of Builders. Although the entrepreneur defended a model of universal, affordable housing, today his homes have been revaluated and many of them are sold through Eichler specialized Real Estate Agents.
For further information we recommend you to visit three websites:
http://totheweb.com/eichler/index.html, with information and articles published by magazines Family Circle and Arts & Architecture –known for publishing the Case Study Houses-.
http://www.flickr.com/groups/eichler/ with nearly 800 images of interiors and exterior of homes, taken by different photographers.
https://theanalogeye.wordpress.com/2011/07/13/eichler-homes-orange-california/ a blog of high quality photography, that we believe, conveys very well the character of these houses.
Image credits: Jesse Chairez / theanalogeye.wordpress.com
Magazine articles: Family Circle;  Arts &  architecture / www.totheweb.com/eichler